check out our sponsors
NEW MEXICO GUNfighter
sponsors
The Candy Lady
Our shop is perfect when you are in the mood for that perfect treat or when you are in need of that perfect gift in any season. Our patrons will find: Over 20 flavors of handmade fudge, A wall of licorice in assorted flavors from around the world, Fresh Dipped and Glazed Fruits, Hand Made Chocolates, Custom Cakes Cakes, Hard Candy Rock Candy, truffles, and some unexpected treats. We also have classic sweets, custom confections and modern delights. You may want to spice things up with Local flavors unique to New Mexico
Breaking Bad Store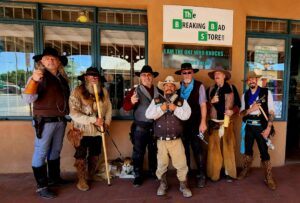 If you have watched Breaking Bad on Netflix and enjoyed it, you will love the Breaking Bad store.  You can get anything Walter White to include t-shirts, coffee mugs, posters, key chains, bumper stickers, etc. Also, take a tour on the Breaking Bad RV and if you are lucky or perhapss unlucky, you may just get robbed by the New Mexico Gunfighters as your RV tour bus is pulling into the Breaking Bad store.
Rattlesnake Museum
Check out the different varieties and species of rattlesnakes in the Southwest. The museum has educational information on anything you'll ever want to know about rattlesnakes. Special museum pricing for students, teachers, military and seniors. 
Come See our Shows!
Experience the Old Wild West
about Us
Since 1979, the NMGA has been performing free Wild West shows in Old Town Albuquerque. We are a group of actors and historian enthusiasts who perform comedic shows portraying life in the Old Wild West.
Meet the Gunfighters
Chester Moon
Dakota James
Polkat Stevens
Dirty Dave
Ms. Peacock
Belle Star
Baby B. Sassy
Mule Skinner
Captain Jack
River Nate
Pepe El Coyote
Poco Loco