Howdy!
We are the New Mexico Gunfighters Association (NMGA) and we are loading up for Season 2023. That means our posse is on the lookout for new gigs this year and we would be thrilled to ride out to your town and cause some family-friendly ruckus.
Gun safety and the education of such safety is our NUMBER ONE priority. We never use live ammo. We only use blanks. We do a lot of behind-the-scenes safety protocols such as, but not limited to, gun checks, reminders, sliding a rod down the barrel, etc.
In addition, before each show, the Gunfighters perform a gun safety demonstration for the audience using a balloon and showing how even a blank can cause harm. We rope off the staging area, so to keep the crowds at a safe distance. All of our Gunfighters are skilled at keeping a watchful eye on the crowd to ensure they stay behind the perimeters, especially young children who may not understand the rules. All of the Gunfighters are prepared to stop a show in progress should this occur. We teach young children about gun safety by asking them important gun safety question(s) that all children should know….
What do you do if you come across a gun?

ANSWER: Don't touch it and go tell a trusted adult, such as a parent or teacher or legal guardian.
The kids who can answer the question correctly are given a toy sheriff badge and are "deputized" for being a safe law dog. This process is two-fold in that we not only teach gun safety to young cowpoke but also to have respect for the law. Check out our Gun safety page for more information about our safety protocols.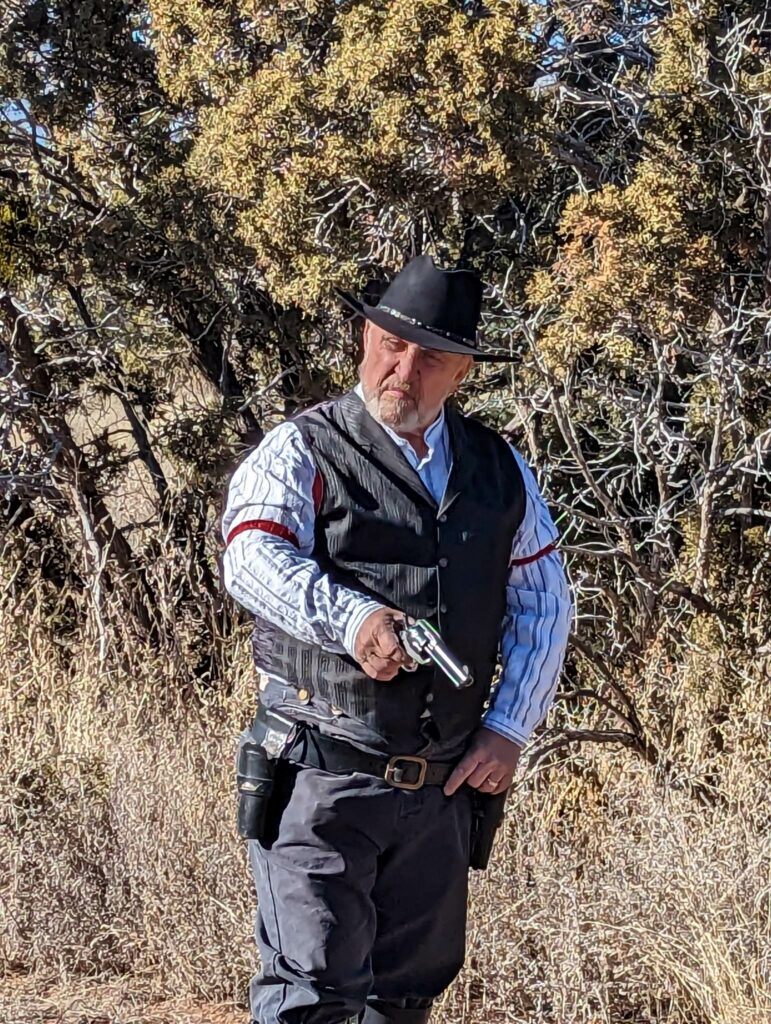 What to Expect from the Gunfighters
If you hire us as one of your performance groups for any and/or all events you have coming up, we promise to bring a flare and uniqueness to your event unlike any other. Our group is very enthusiastic, talented, comical and we are sincerely hoping you will agree to allow us to be an exciting family-friendly fun part of your event. 
We will have a minimum of six-ten Gunfighters playing a variety of different roles to include:
Town Sheriff
Deputy
Church Lady
Saloon Girl
Outlaws
Miscellaneous Cowboy Roles
We will have enough members to not only perform our shows, but also be available before and after the shows, to walk around the venue, interact with your attendees and have their picture taken with the Gunfighters. We will make ourselves noticeable and approachable to all areas of your venue. We are very professional, approachable, respectable and great with kids, giving out toy sheriff badges to those youngsters who understand the importance of gun safety. In the past, we have also given out cowboy coloring pages to young children and are happy to have them available for your event upon request.
Our shows last between 15 and 20 minutes, each one being different and unique. We can modify each of our shows to be longer or shorter. We will have a PA system and every performer will be wearing a microphone so every guest will be able to hear our lines.
Plus, as an option, we will bring our own handmade all-natural wood Old West town that we assemble upon arrival and take down at the conclusion of our performances. The town includes a bank, a jail, a sheriff's office, an outhouse, etc.
We are fully insured and will gladly add your event to our insurance policy if you wish. We will also hand you a copy or send you a digital copy of our insurance policy, upon request.
In Summary, our services include:
Six-Eight Gunfighters casted as mixed characters
Up to three Old West comedy shows per day with shootouts, each show lasting 15-20 minutes
Meet & Greet Interaction with your guests
We can modify our shows to include local history and historic characters of the area
Photo opportunities with basic props throughout your event
Old West town with real wood to include:

Old West Bank
Prop Outhouse

Full Sound System/PA with wireless mic's
Full liability insurance
If you are ready to hire us, go to our Contact page and let us know. We will get in touch with you as soon as possible.