Available For Hire 
We are available for hire and have performed in many different cities and towns in New Mexico. We have also traveled to Tombstone, Arizona and performed on the stage of the O.K. Corral. Below is a short list of some of the venues where we have performed:
Fourth of July Fiestas in Las Vegas, New Mexico
Wagon Mound Bean Day Celebration
Las Cruces Cancer Fundraiser
Tucumcari Rawhide Days
No Scum Allowed Saloon in White Oaks, New Mexico
Western Music Association
International Albuquerque Balloon Festival
Moriarty Minicon
Otero County Festival Harvest & Street Dance in Alamagordo, New Mexico
Valencia County Fair
Wild West Fest in Old Galisteo
New Mexico Cider Festival at Eaves Ranch in Santa Fe
Whiskey Classic at Bonanza Creek Ranch in Santa Fe
St. James Hotel in Cimarron
There typically are six to ten actors performing in each of our shows playing various roles, such as Town Sheriff, Deputy, Outlaws, Cowboys, Church Ladies, Saloon Girls, Ranchers, Townspeople, etc. We will have enough actors to not only perform our shows, but be available before and after the shows to walk around your venue, interact with your attendees and have their free picture taken with the Gunfighters. We will make ourselves noticeable and approachable in all areas of your venue. We are all very professional, respectable, friendly and great with kids.  Our shows are filled with humorous comic relief.
We may not always be historically correct, but we promise to be hysterically correct.
We supply our own man-made town to include an Old West bank, sheriff's office and jail, and an outhouse (not real).
We are fully insured with full liability coverage for all of our events. We are happy to send you a digital copy of our insurance policy.
Gun safety is very important and our number one priority. We never use live ammo. We only use blanks. We always rope off the staging area, so to keep the crowds at a safe distance. All of our gunfighters are skilled at keeping a watchful eye on the crowd so to ensure they stay behind the perimeters, especially young children who may not understand the safety rules. We are all prepared to stop a show in progress should this occur.
We provide educational benefits to young children by teaching them about gun safety. Before each show, we ask the young cowpokes in the audience critical need-to-know gun safety questions. By answering the question correctly, we "deputize" these smart little cowpokes by attaching a plastic sheriff's badge to their shirt to which they proudly wear. This process is twofold in that we teach them gun safety as well as respect for the law.
Each of our shows last between 15 and 20 minutes. We can make them longer or shorter, depending on your schedule and needs. Each show is different and unique with varying characters.  We have our own PA system that we will bring. Each one of our actors will be wearing a microphone so all of your attendees will be able to hear the shows.
In summary, we provide the following services:
 Six to ten Gunfighters casted as mixed characters
 Up to three Old West comedy shows per day with shootouts, lasting 15-20 minutes or as long as 30 minutes, upon request.
 Meet & Greet interaction with your guests.
We can modify our shows to include local history and historical characters
Photo opportunities with basic props throughout the event.
Old West town which includes Sheriff's Office/Jail, Old West Bank and a prop outhouse (not real)
Full Sound System/PA with wireless mic's
Full liability insurance for your event. Plus we will send you an electronic copy of our insurance policy, upon request.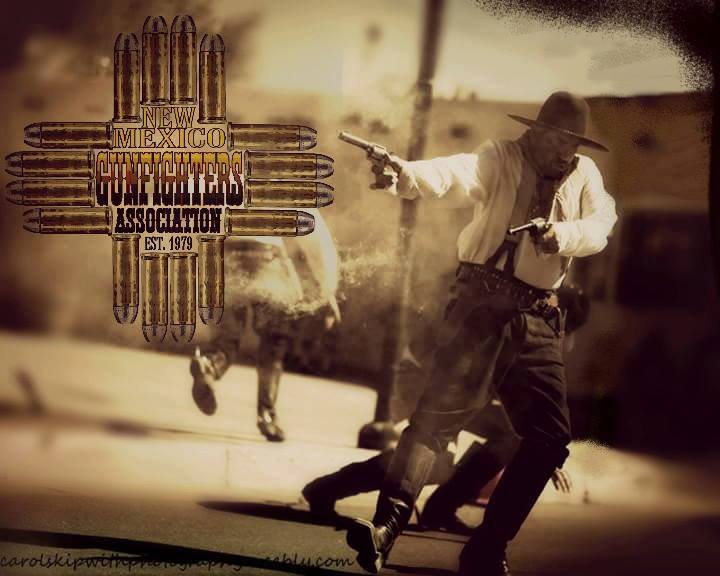 Ready to Book Us?
If you are ready to inquire about booking our group for your event, please send an email to newmexicogunfighters@gmail.com or call us at 505-459-1579. You can also fill out the form below and click Send.