FAQ
Questions & Answers......
We have tried to answer all of your questions on this page. To view the answer to the listed question, click on the + sign to the far right of the module.
If you have a question that we did not answer, please reach out to us by filling out the form at the bottom of this page or send us an email.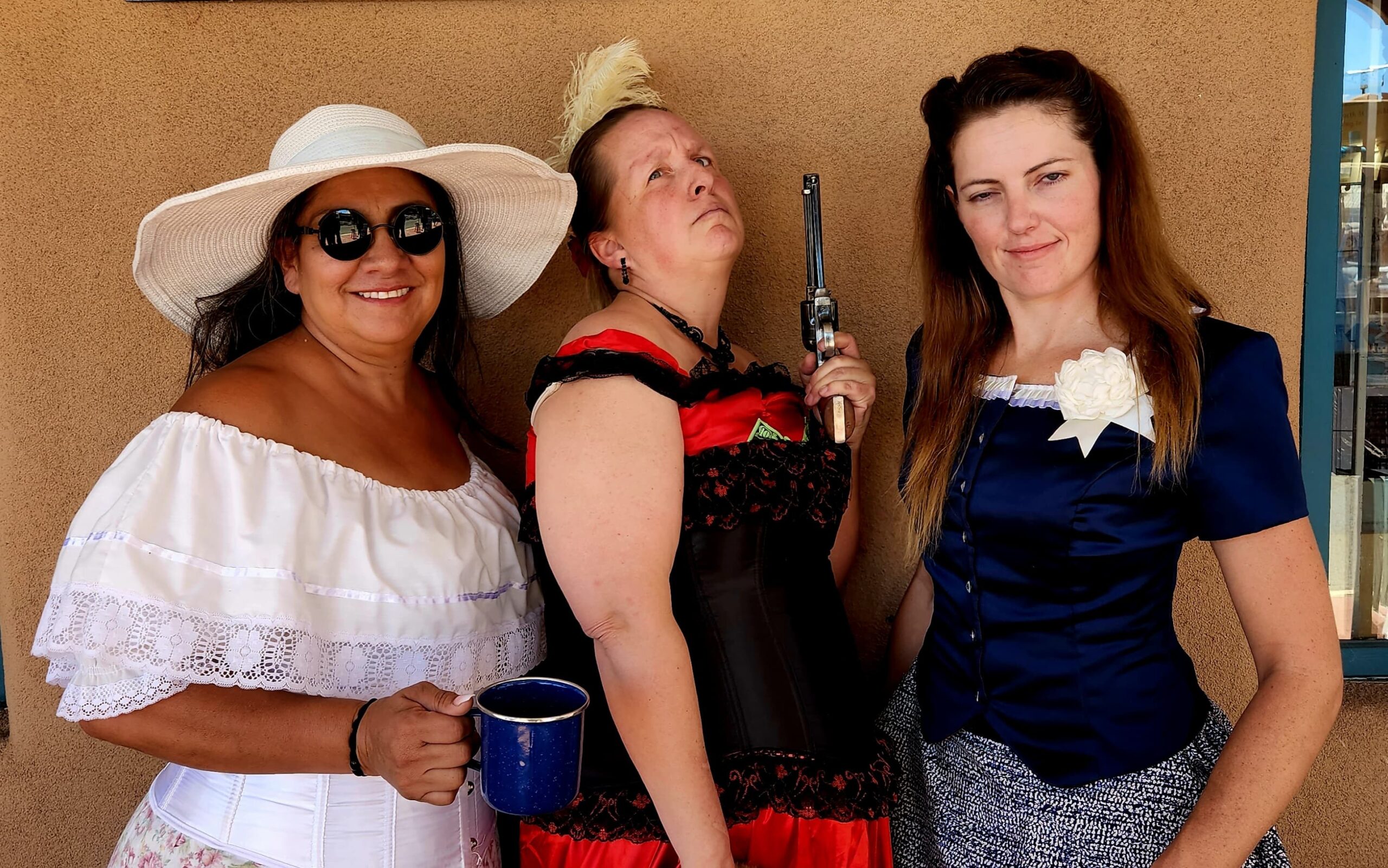 Does your group get paid to perform?
We perform for free in Old Town ABQ. However, when we are booked for gigs away from our homebase, such as in other cities or counties in New Mexico, we are paid. We are often hired to perform at events throughout the state of New Mexico which are within the theme of our shows. You may visit our Available for Hire page to get an idea of our services.
What educational benefits do you offer?
We pride ourselves on teaching children the importance of gun safety and to have respect for the law. Before each and every show, we ask the youngens in the audience, "What do you do when you come across a gun?" The correct answer is, "Don't touch it. Walk away and go tell a trusted adult, such as a teacher or parent or legal guardian." The child(ren) who can correctly answer the question are "deputized" by having a plastic sheriff's badge attached to their shirt which they wear with pride. This also teaches them to have respect for the law.
Are your shows family-friendly?
Yes. All of our shows are family-friendly. We do not use foul language. All of our shows have clean humor. I will caution, however, sometimes the gunfire will scare infants and make them cry. We leave it to the parent's discretion because they know their babies and children best.
Can anyone have their picture taken with the Gunfighters?
ABSOLUTELY!! We love to have pictures taken with our fans. After we unload our guns at the end of every show, we invite audience members to come up and have their picture taken with us. Whether or not you are able to see our shows, we will be happy to make ourselves available for photos. We do not charge anything to have your picture taken with us. It is always free. Just have your cell phones ready.
Do you accept donations?
Yes, we do accept donations, but you are not required. We believe in offering free humor, free gun safety lessons and free entertainment. If you are able to give us a donation, we have a spittoon available to place your monetary donations and thank you.
What language are the shows in?
All of our shows are in English.
Is your group on Facebook?
Yes. We are on Facebook. We are also on Instagram. We have a YouTube Channel and soon we will be on Pinterest. Even, Gunfighters have social media.
Does the NMGA have insurance?
Yes. We are fully insured with full liability insurance for both paying away gigs and in Old Town Albuquerque.
How long has New Mexico Gunfighters Association been in existence?
How Many Members / Actors do you currently have?
We have approximately 10 – 12 members who actively play various roles in our shows.
Can I become a member of your group? What is required?
We are always on the lookout for more outlaws and bandits. Yes, you can become a member. Experience is not required. You can learn as you go. You must have a clean background history because you will be around guns and will also be handling weapons. You do need to be at least 18 years of age because we do require individuals to be mature enough to handle a weapon.
Do you have horses or use horses in your shows?
No, we presently do not have real horses or use them in our shows.
What about costumes?
We do not automatically supply costumes to you free of charge. Costumes can be very expensive and hard to find. Our group can offer advice on where to find period correct costumes but each member is responsible for purchasing their own costumes. Like any hobby, it can be costly to purchase the materials you will need. At times, group members can loan costume pieces to one another but that is up to the descretion of each individual member.
What gun safety precautions does the NMGA practice?
Gun safety is our number ONE priority. We take it VERY seriously. We never use live ammo. We only use blanks. At the start of our set up process, we first rope off the staging area to separate the actors playing area from the audience. Next, before each and every show, we discuss gun safety. We do a demonstration using a balloon to show that even with blanks, guns can be dangerous. All of our actors are trained at keeping a careful eye on the roped off perimeters and we are all prepared to stop a show in progress should a situation become dangerous, such as a young child slipping through the barriers and entering the playing field. We also teach gun safety to the young cowpokes in the audience by asking them important safety questions. 
Have any of your members been in films or TV shows?
Yes. Many of us have been in both films and TV series. The most common genre we work on are Westerns. Many of us were hired by film and TV productions because of our experience working as actors with the NMGA. Some of the films/TV shows that one or more of us have been in are:
News of the World
Walker Independence
End of the Road
Gundown
Debacle
Ambush at Dark Canyon
Justice
Dead Man's Hands
Butch Cassidy & the Wild Bunch
Vermijo
Time Traveling with Brian Unger