New Mexico Gunfighters Association
About Us
About Us
All the Cool Things about Us
Our Wild West re-enactment group has been in existence since 1979. We perform free shows for the public twice a month in Old Town Albuquerque. We are also available for hire and travel to other areas of New Mexico to share history, entetainment and family-friendly fun. If you have an event, we will provide the entertainment. 
Humorous Content
All of our shows include humorous jokes and characters that promise to bring laughter and smiles to you and your family. We may not always be historically correct, but we will be hysterically correct.  
Aceepting New Members
We are always on the lookout for more outlaws and bandits. If you think you have what it takes to be a Gunfighter, reach out to us.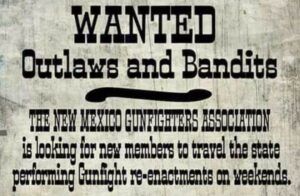 Family-Friendly Shows
All of our shows are family-friendly so bring your youngens. We never use foul language and all of our actors are great with kids.  
Educational Benefits
We teach the young cowpokes in all audiences of all shows the importance of gun safety. We perform live safety demonstrations before every show and ask the child(re) in the audience pertinent gun safety questions and those smart lil' ones who correctly answer the questions are "deputized" with a free plastic sheriff's badge that they keep as a memento of their time as a Junior Deputy. 
Free Photo Ops
Have your cell phones ready to create some lasting memories with the Gunfighters. In between and after shows, we will be available for free photo ops with props, such as money bags, cowboy hats and musical instruments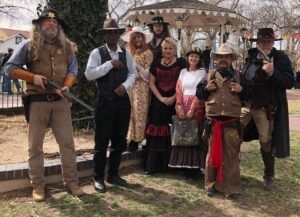 Our Story
Since 1979, our traveling theatrical Old Wild West comedy group has been performing all over New Mexico. Our home base has been in Old Town Albuquerque where we have performed in multiple locations throughout. We have performed in the street. We have performed in the central plaza. Currently, we are performing outside the storefronts of two of our sponsors, The Candy Lady and the Breaking Bad Store.
Our group of approximately ten to twelve actors consist of various characters such as Town Sheriff, Deputy, Outlaws, Bandits, Ranchers, Church Ladies, Saloon Girls, Madams, Ladies of the Night and other cowboy types. We have several shows lasting 15 to 25 minutes each, all with humorous family-friendly content. We supply our own costumes by either making them ourselves or purchasing them from Wild West outfitters.
 Many of our performers have been in Westerns films and TV shows. Some of these productions include but are not limited to:
News of the World
Walker Independence
Dead Man's Hands
Ambush at Dark Canyon
Gundown
Debacle 
Butch Cassidy and the Wild Bunch
Justice
End of the Road
We have won awards and participated in and won competitions in the past. Some of our members are champions in SAS – Single Action Shooting.  
We are available for hire. We have been hired by repeat clients for years, performing at annual Western-themed venues as well as shot-gun weddings, grand-openings and other fun-filled events. 
Happy Viewers
Why Choose Us

We may not be historically correct, but we promise to be hysterically correct.

We are New Mexican lawdogs. We don't have to be honest all of the time.  

We will happily die for your entertainment.